Auschwitz concentration camp. A new transportation of prisoners arrives, among them a midwife from Łódź. At her own request, she starts work amidst the inhuman conditions, without water, basic medical instruments or medicines. She delivers babies on a stove covered with an old blanket. She risks her life multiple times, defying the orders of the ruthless Josef Mengele, doing whatever it takes to protect children from his cruel experiments. She supports the young mothers whose babies are taken by force and sent to Germany, or to their deaths.
At Auschwitz she was not Stanislawa Leszczynska. She was Mum. She was hope.
Magda Knedler's novel presents the story of an extraordinary, heroic woman who, in the awful conditions of the concentration camp, provided help to pregnant prisoners and their children, the smallest and most vulnerable victims of Auschwitz.
Teresa Wontor-Cichy Auschwitz-Birkenau State Museum
Stanislawa Leszczynska
Mum – Stanislawa Leszczynska – worked as a midwife until 1957. She served women with her knowledge and experience, but above all with her kindness and incredible empathy. During World War II, she and her husband were involved in working with underground organisations. Her main role was to obtain food for Jews living in the ghetto. In 1943, their activities were detected and Stanisława was sent to Auschwitz, where she worked until the liberation of the camp. In 1965, her Midwife's Report from Auschwitz was published in the journal 'Medical Review'. She died of cancer in 1974. In the final stage of her illness, she consistently refused to take painkillers.
A dramatic story inspired by the heroic life of Stanislawa Leszczynska
Poprzednia książka Magdy Knedler
W otoczonym drutem kolczastym obozie zagłady zawiązuje się kobieca więź. Trwalsza od obozowych murów. Silniejsza od brutalnych uderzeń. Maria, Sabina, Bente i Helga – każda z nich trafiła do KL Ravensbrϋck z innego powodu. Każda była inna.
Media o książce
Woda w studni i wiadro, które się zorganizowało, żeby ją przynieść. W obozie wszystko organizuje się samemu. Z tym wiadrem dwadzieścia minut przez Lagerstrasse, najczęściej w błocie po kostki, do którego spływa "szajsa" z przepełnionych latryn. Po drodze zawsze też coś może się stać, coś się komuś może nie spodobać. Ktoś może mruknąć, że oto idzie polska akuszerka, która nie boi się nawet Mengelego. Bezczelna.
"Położna z Auschwitz" to dramatyczna opowieść inspirowana bohaterskim losem Stanisławy Leszczyńskiej. Polska położna odebrała w Auschwitz ponad 3000 porodów, podczas których nie umarło żadne dziecko, żadna kobieta. Przepremierowo prezentujemy fragment książki Magdy Knedler, która ukaże się 15 stycznia 2020 r. nakładem wydawnictwa Mando.
Stanisława Leszczyńska – więzień nr 41335. Świadectwo obozowego piekła
Magda Knedler w filmie dokumentalnym opowiada o tym, jak wyglądało życie Stanisławy Leszczyńskiej w obozie koncentracyjnym.
75. Rocznica wyzwolenia Auschwitz - opowieść o Stanisławie Leszczyńskiej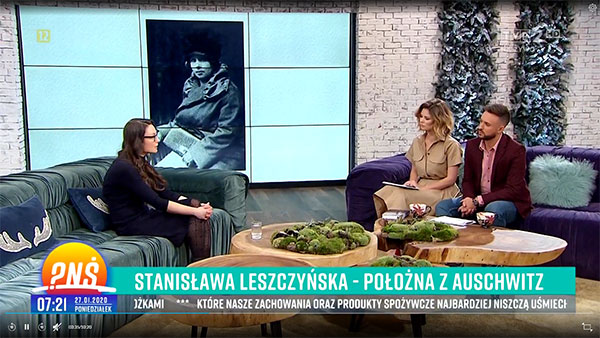 Stanisława Leszczyńska w KL Birkenau pracowała od kwietnia 1943 roku jako położna. Funkcję tę pełniła aż do momentu wyswobodzenia obozu przez Armię Czerwoną (27 stycznia 1945). Na tym stanowisku, sprzeciwiając się wyraźnym rozkazom władz obozowych, przyjęła ok. 3000 porodów. Nie straciła żadnego dziecka ani matki.